Jenkat Games today announced the release of The Santa Express in time to spread some holiday cheer among fans of online arcade-style games. The Santa Express is a free online casual game where players help Santa with his Christmas deliveries.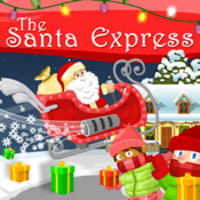 As the classic Christmas song goes, Santa "knows if you've been bad or good." This Christmas, Santa will make his deliveries of presents for good little boys and girls and lumps of coal for naughty children with the help of The Santa Express – his souped-up sleigh fully-equipped with turbo boosters to help him through the Christmas rush.
"The holidays are when we all get to be kids again and enjoy the lighter side of life," said Malcolm Michaels, co-founder of Jenkat Media. "The Santa Express is a free online game where players of all ages can get into the Christmas spirit, whether during a short work break or playing as a family. Because The Santa Express can be played online for free, players can take a little bit of holiday cheer with them no matter where they go."
In addition to their latest casual free online game in The Santa Express, Jenkat offers a number of downloadable games for purchase, including the recently-released Finders Keepers (an underwater, arcade-style, treasure-hunting game) as holiday gift ideas for casual gamers.
This entry was posted on Tuesday, December 11th, 2007 at 2:37 pm and is filed under Games, Jenkat.